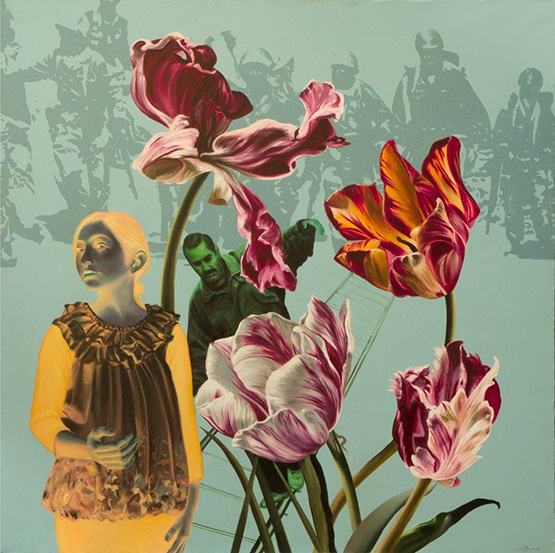 Versus of Oblivion
Solo painting exhibition of Roghayeh Najdi
Opening at Aaran Gallery on 14th April, on view until 1st May 2017.
For a whole generation of Iranians, childhood was a passage between bewilderment and awakening. The experience of living through years of revolution and the imposed war, exposed them to images, emotions and vocabulary that was not supposed to be part of their childhood. The fears and conflicts of those years has had its profound effect on every day decisions and desires. At the same time the insecurity that a nation has felt for many years has evoked fundamental human craving for life; for color, patterns, and flight of fancy.
In her first solo exhibition Roghayeh Najdi pictures a past that is shared by millions of other children. By painting Negative images of children, with a backdrop of unrest and inherent violence, she speaks out against imposed war and violence and the ever increasing threats of war and hostility in her home country as well as in the region .
The illusionary quality of what she remembers is a tangible shroud that covers the paintings. In these layers of reality, dream, and illusions a unique formation takes shape. Vivid colors are in contrast with the grey years of life in Iran and the astounding beauty of the wild flowers are a reminder that ultimately nature can't be restrained and eventually human spirit is capable of overcoming a great number of obstacles.
The Versus of Oblivion is a collection of wondrous imagery by a young female Iranian artist who is trying to recall all of the past, and today she is determined to live her life to its fullest, despite the past; defiant stand of an artist who is committed to renounce darkness and ultimately to defeat spite.