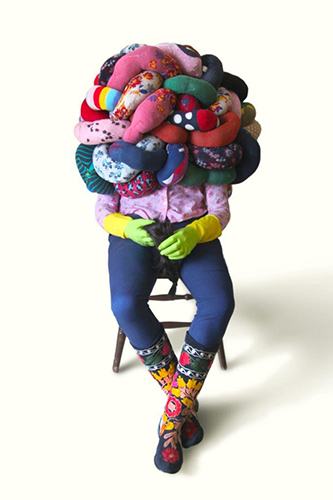 Solo exhibition of Hoda Zarbaf
Opening at Aaran Gallery on 13th May 2016
Composed, reshaped and hand-stitched, Hoda Zarbaf's second sculptural series are made up of old family knick-knacks, recycled clothing, abandoned furniture pieces, stuffed dolls, and the varied artifacts she has gathered while strolling around Tehran.
Titled "Floral Compositions, Travelers of Time", the sculptures borrow their identity, both in form and concept, from the unity of the dichotomies. Zarbaf has used pre-owned or vintage textiles–along with the traditional folk practice of stitching and patching–to bring a palpable level of intimacy to her work. In her making, the artist marries contrary concepts to achieve the optimum: giveaway and invaluable, pappy and concrete, old and new. Stitches that are both controlled and disorderly unify the soft materials to solid furnishings, creating large figurative sculptures that in a way reconnect the artist to the former and current narratives of her homecoming.
Following her return to Tehran from a nine-year journey in North America, Zarbaf in a new series—created in Tehran—explores the tales of her past life. During this time, she has rummaged through her childhood memories, new family anatomy, as well as solid Tehran daily routines. Abandoned pieces of clothing or old family house items (which have at some point been intimately in contact with the humans from her previous time in Tehran), are married into newly composed sculptures—reconnecting with the past and reminiscent of the lost intimacy.
Moreover, Zarbaf takes her narrative to a new dimension by embedding time-based media such as video, sound and lights in the sculptures. She expresses, in a letter to her friend about this journey, that she thinks these days we are more the travelers of time than of space. She, therefore, leads the so-called floral materials from the past and passes them through the time. To further communicate these passages, metaphorically, Zarbaf interweaves different mediums into each other to further: Industrial wheels carrying a box with stuffed dolls on them; or Soft oozing forms which are stitched around old monitors while exposing human hair or cast limbs.
The collection projects vulnerability while evoking motion—past and present. The soft forms that she has repeatedly created from the floral textiles are mostly remains of her grandfather's fabric store. Together with the pieces of old furniture, and orphan dolls, Zarbaf has created time travelers that transcend their era and challenge the idea of belonging.