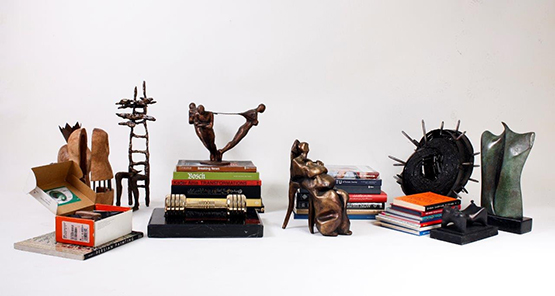 SMALL+50
On occasion of 10th Anniversary of exhibition of Small Statues-Part One
In collaboration with Iranian Association of Sculptors
And to coincide with Iranian Biennale of Sculpture
Opening at Aaran Gallery on 8th September 2017, on view until 18th September 2017.
Behrouz Darash, Saeed Shahlapour, Bijan Nemati Sharif, Fatemeh Emdadian, Ali Davari-Nader Qashqai, Mohammad Hossein Emad, Abdolnasser Ghiv Ghasab, Malek Dadyar Garossian, Mansour Azari, Elham Bolorchian, Mohammad Reza Zabihollahzadeh, Farzaneh Mohri, Korosh Golnari, Azar Sheikhbahizadeh, Akram Jahanpour, and Ghodratollah Agheli.
The recurrence of an artistic event defined within a time frame, is indicative of importance of an event and the perseverance of the custodians and participants in maintaining a relationship, an association that indicates presence and strength of its foundation and susceptibility. On the other hand it is demonstrative of the potential that is well recognized by artists, viewers and custodians.
The exhibition of Small statues is one of the artistic events that despite obstacles has remained consistent and authentic. This year at the threshold of its tenth anniversary with regard to the past exhibitions, this event will acknowledge and pay respect and gratitude to veteran participants.
On the tenth anniversary of this event and with support of Aaran gallery, the exhibition of Small +50, aims to honor the sculptors above 50 years of age who with their consistent presence have laid the foundation of this annual event.