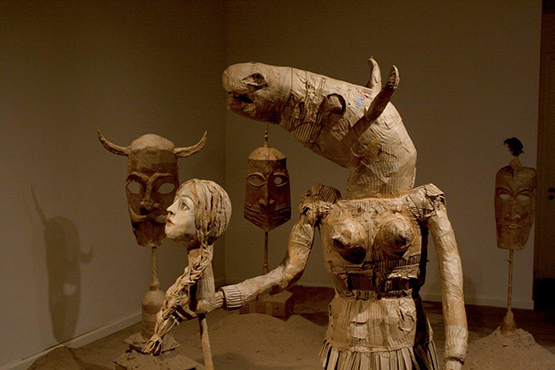 Shahnameh, The Perpetual Narrative
The exhibition is based on a survey of the impact of Shahnameh on Modern and Contemporary Art of Iran conducted by By Akram Ahmadi Tavana. A fully illustrated catalogue is published for the occasion, with Foreword of Dr. Firuza Melville, Director of Research, Shahnameh Centre for Persian Studies, Pembroke College, Cambridge.
Opening at Aaran Gallery on Friday 4th March, 2016.
Artists:
Arabali Sharveh, Nikzad Nodjoumi, Mehdi Hosseini, Gizella Varga Sinai, Fereydoun Ave, Marziyeh Garadaghi, Farah Ossouli, Taraneh Sadeghian, Shirin Neshat, Jamshid Haghighatshenas, Saeed Ravanbakhsh, Reza Hedayat, Behnam Kamrani, Yasaman Sinai, Alireza Jodey, Siamak Filizadeh, Amir Hossein Bayani, Ala Ebtekar, Artemis Shahbazi, Ali Reza Fani, Mahsa Kheirkhah, and Aylin Bahmanipour.
Simultaneously on Friday 4th March up to 6th March, between 5-8, an enactment of performance of Mohreh Sorkh, of Saeed Ravanbakhsh, first performed in 2001, will be presented at Aaran Projects.
The appeal of Shahnameh for visual artists, which began two centuries after its creation, has remained solid and in contemporary times continues to be an inspiration for creation of art. The reasons and motives of artists in choosing this subject and their artistic interpretation, has been diverse, due to social, political and cultural contexts of their times. The two alternating approaches of emphasizing either on Iran's Ancient history, or its Islamic history, can explain different attitudes of regimes; while under the rule of Pahlavi dynasty production of art on the subject was encouraged for official events, but in years proceeding the Islamic revolution, and despite the anti-Shahnameh sentiments of the first few years, artists, whether individually or collectively, have referenced Shahnameh in a completely independent approach. Artists have been drawn to the magnificent abilities of the Epic Poet, Ferdowsi in visualizing the battles and even romantic scenes. Not withstanding the exalted position of Shahnameh as a constant source that recalls the glory and magnificence of Ancient Persia, generations of artists have alluded to its stories to criticize the cultural and social inadequacies.
For centuries Persian artists have used mythology and poetry to depict a wondrous world, loyal to ideals of beauty, truth and perfection. A world where they have found the redeeming answer to brutality chaos and frustration that seems always to have been a part of daily life. Artists have created sanctuaries, providing consolation, delight and revelation for their audiences. They have preserved a Persian legacy, enriched our lives and inspired us as a nation to become better than we are.
We are grateful to the Iran Heritage Foundation for being a sponsor of the exhibitions's publication.