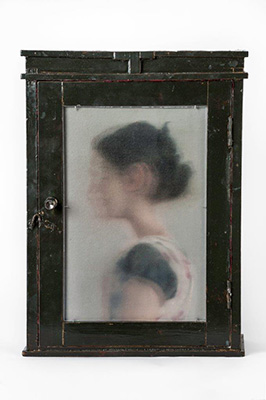 Solo show by Nasser Bakhshi
In collaboration with Nader & Nader LLC.
Nasser Bakhshi is a self taught artist and lives far from the hustle and bustle of the Capital, in the wonderful land of Azerbaijan. He places his memories and bits of his soul and heart as well as our collective memories inside old boxes that he finds in forgotten corners of the city of Tabriz.
The assemblages have an indefinite quality. The boxes act as repositories, as if at a later time the artist will revisit these visual documentaries of his life and time, and will add his new memories and perceptions. The mundane objects next to the extraordinarily painted pieces create time capsules that are decidedly poetic. The discarded boxes and bits and pieces that were once beautiful and useful, are tenderly rearranged to whisper the story of a life. The intimate quality of these works tempt the viewer to open the boxes and drop pieces of their own life in to the mix.
The extraordinary quality of drawing and paintings create instant classics. Besides images painted from photographs as simulations of reality, the drawings are "simulation of something which never really existed". The combination of the two genres adds to the excitement and marvel of the boxes.
While the large scale paintings stand on their own strength and beauty, it becomes increasingly difficult to separate them from the boxes. The large paintings are "details" of the paintings within the boxes; taken out of their place and accentuated, a reverse action of seeing with magnifying glass. They seem to come out of the boxes to deliver their own monologues. The boxes are accumulation of images and elements that artist lives with and they narrate the dreams and wishes, as well as failures and uncertainties of their creator; who is one of many, one of us, many of us.