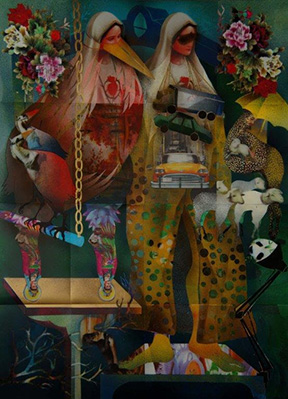 Solo exhibition by Allahyar Najafi
The story that you narrate is similar to installing colored glass on the windows of your house. Whatever is out there, whatever is moving, you get to see the colored glass and the darker or lighter shadows behind them. The story that you tell is not about the depth of life, it's a recounting of passage of life. Your story is a patchwork of sub-stories, petty stories that not a lot of people care to tell.
The two and half dimensional imagery that are sold at the corner of the streets tell their own tale as well. One winks, the other ones jumps from the wolf to tiger and tiger to eagle, another shows the depth of forest. The final image is similar to what you get to see behind your colored windows. You see "what" you want to see. And there is no particular reason for it. And it's not even necessary to explain it. It's your story, the wink of the other, or the story of another one. A patchwork which is just like life. Each part exists for a reason. Very much like a fly that flutters to leave, but gets to change the air around us and it doesn't even know it.