September Newsletter
Sep. 30, 2012
Amir Mousavi at Los Angeles County Museum (LACMA)
Aaran Gallery and Massoud Nader are proud to announce the acquisition of three photographs by Amir Moussavi from the series "Lost in Wonderland" & "Wonderland" by LACMA, Los Angeles County Museum of Art.
Amir Moussavi is an Iranian photographer who was born in 1975 and has studied cinematography at Soureh University. His resume includes video and short films as well as photography and painting.Amir's fascination with his surroundings and the city where he resides is visible in the three photographic series he has produced, "Trees & Walls," "Hemmat Expressway" and his most recent, "Lost in Wonderland" and "Wonderland". They are vivid examples of how he has captured Tehran through his lens.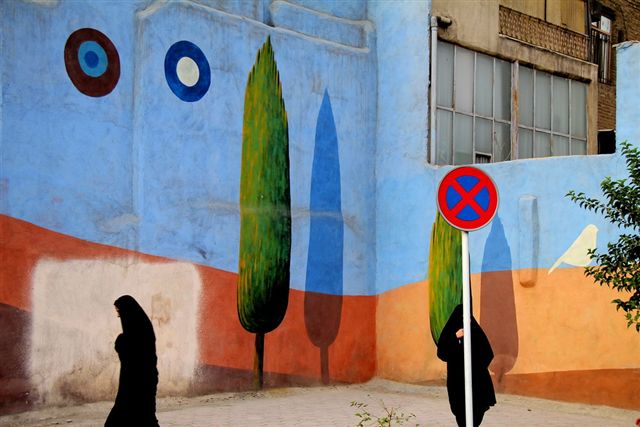 Amir Mousavi, From series "Lost in Wonderland", Print on photography paper, 120×84 cm

Shahram Entekhabi and Baktash Sarang at exhibiton "Come Invest in Us, You'll Strike Gold"
The Exhibition of 20 Artists from the MENA
Curated by Diana Wiegersma
September 10th – November 3rd, 2012
Hilger BrotKunsthalle
Absberggasse 27
1100 Vienna, Austria
www.brotkunsthalle.com
"Come Invest in Us, You'll Strike Gold" refers to the words spoken by Algerian President Abdelaziz Bouteflika after being elected for the first time in 1999. As much as this was an economic promise addressed to his country, it was also a seductive wink to foreign investors. Since then, entrepreneurs have indeed honored his invitation with the heavy support of various international governments.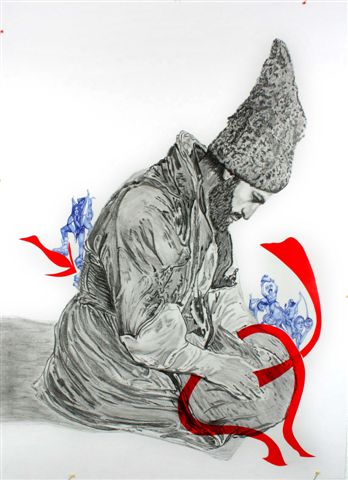 Shahram Entkehabi, "Fresh ME", Collage and drawing, 120×80 cm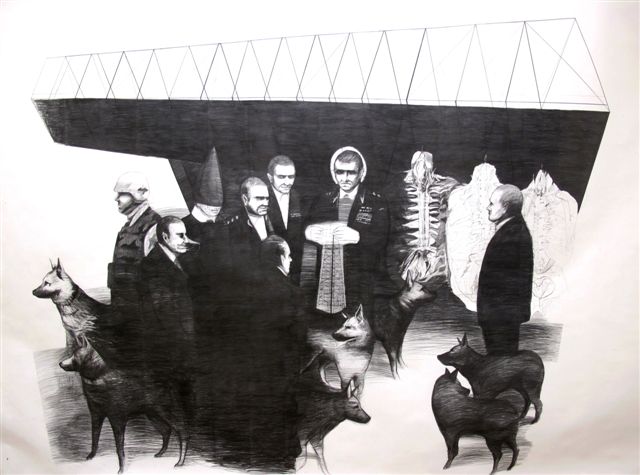 Baktash Sarang, "Puisatier", Pencil on paper, 350×270 cm

Exhibition: Schriftuur / Scripture
Showcasing the work of Baktash Sarang
Sunday 23 September, De BOND, Brugge. Belgium
Scripture, scriptures, holy writ, or holy books, are the texts which various religious traditions consider to be sacred or of central importance to their religious tradition. Many religions and spiritual movements believe that their sacred texts are divinely or supernaturally revealed or inspired.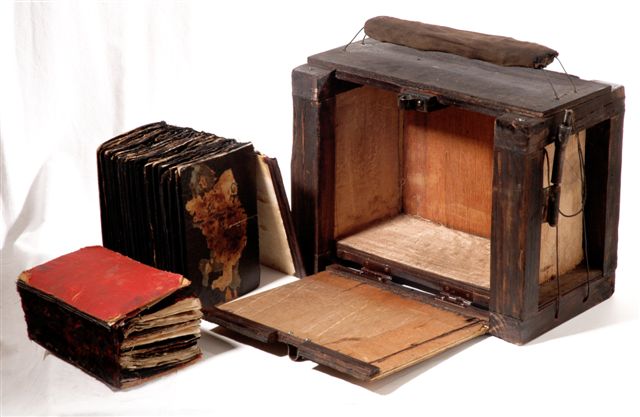 Baktash Sarang, "Holy limitation", 36x30x27 cm, Mixed Media, 2007
For more info please visit: http://www.ccbrugge.be/evenement_detail.jsp?evenement=1220
Artists:
Carlos Aires, Steven Baelen, Wim Delvoye , Jan Fabre, Jacques Charlier, John Isaacs , Johan Deschuymer, Hou Chien Cheng, Bita Fayyazi, Roland Ophuis, Bieke Criel, Anneke Eussen, Peter Jonchkeere, Shadi Ghadirian, Pierre Goetinck, Loek Grootjans, Jan De Vliegher, Peter Buggenhout, Peter Depelchin, Virginie Baillie, Joris Ghekiere, Kakudji,Frits Standaert, Bart De Clercq, Eric Van der Kooij, Gerjanne & Marijke Van Zuilen, Daphne Blomsma, Stefan Peters, Dominic McGill, Sona Safaei, Tracey Snelling, Mircea Suciu, Emilio Lopez-Menchero, Wesley Meuris, Line Boogaerts, Lisette De Greeuw, Baktash Sarang Javanbakht, Steven Baelen, , Daniël Dewaele, Johan Verschaeve.

POST POP
Curated By Behrang Samadzadeghan
Opening at Mah-e mehr Gallery Tehran on 28th September
Exhibiting works by a number of the artists of Aaran gallery, Behrang Samadzadeghan explores the visual signs of Pop Art at Iranian contemporary art scene.
Artists: Ala Ebtekhar, Ebrahim Eskandari, Mohammad Eskandari, Reza Eshalghi, Shahram Entekhabi, Mahmoud Bakhshi Moakhar, Majid Biglari, Jinoos Taghizadeh, Arash Hanaei, Taha Heydari, Siamak Filizadeh, Behnam Kamrani, Abbas Kowsari, Hossein Soltani, Behdad Lahooti, Hadi Nasiri, Mehrdad Mirzaei, Hadi Nassiri, Mina Noori, …


Installation of Statue of Ebrahim Eskandari at Tehran Museum of Post
Amin Eskandari presented "Post Box" for the biennale of Sculpture of Iran in 2011, cleverly reminding the citizens of the not so distant past. At age of 25 this young artist seems to be well on his way. His recognizable pieces invoke the blissful nostalgia shared by many of Tehran's citizens and even Iranians in Diaspora. He draws our attention to details that are often neglected, bringing abandoned objects and feelings into the limelight, the little things and little people that matter. Proving that the ordinary is beautiful.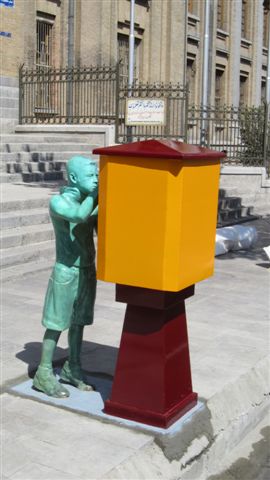 Ebrahim (Amin) Eskandari, "Post Box", 130x60x60 cm, Bronze and steel sheet