Peace, Health and Prosperity for all in the New Iranian year of 1392
Mar. 18, 2013
Peace, Health and Prosperity for all in the New Iranian year of 1392.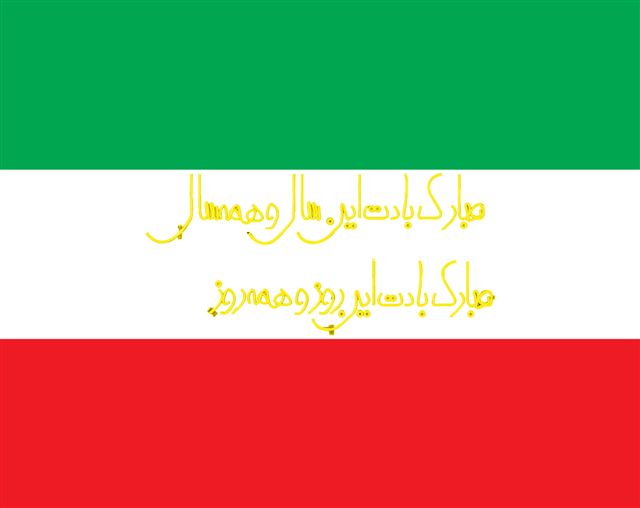 Gallery will be closed from 19th March to 5th April for Iranian new year holidays. We will resume work on 6th April and the current show of sculptures of Majid Biglari will continue until 11th April.

Latest News of Aaran Gallery
We are also pleased to announce the inclusion of works by Baktash Sarang and Majid Biglari, at the prestigious Lepsien Art Foundation. A private non profit organization based in Düsseldorf, Berlin, Abu Dhabi and Luxembourg dedicated to support art and culture.
A note from the foundation
The two contemporary emerging Iranian artists Baktash Sarang and Majid Biglari represented by Nazila Noebashari of Aaran Art Gallery Teheran stand out greatly with their work and positions. The Lepsien Art Foundation has decided to acquire outstanding art works of these two artists for the permanent collection. The permanent collection will be exhibited as well as published in dedicated catalogues for the public.
Owner & Chairman Christian Lepsien further adds: "Iranian art has always played an important role in the development of the art in the middle east region. The art works of Baktash Sarang and Majid Biglari represent a very strong and outstanding position of emerging contemporary Iranian art and we are glad to be able to include works of both into our collection. We are looking forward to see and support the further artistic development of these artists."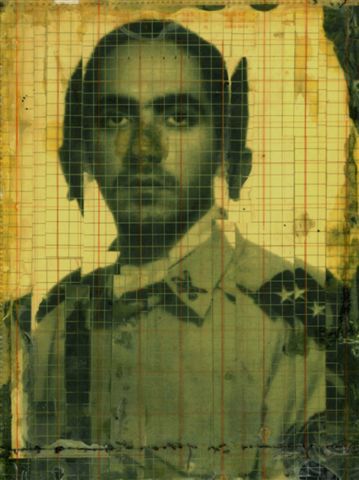 Baktash Sarang, "Personnel", 2013, Collage in light box, 94×70 cm
At the same time Baktash Sarang has been chosen to attend a two year residency program at : Academie des Beaux Arts of Paris. His latest show in Tehran has been a wonderful success and a milestone in the exhibitions held in the past one year in Tehran. His practice is a constant reminder of challenges and sufferings of human beings. revolution. He belongs to the Golden generation of Iranian Artists who believe in integrity of Humans despite all that has come to pass.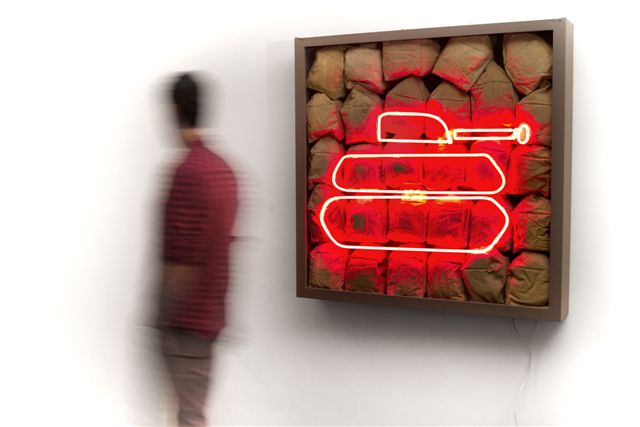 Majid Biglari, "Untitled", Mixed media, 103x103x15 cm
At first glance, Majid Biglari's sculptures are immediately likeable, quite simply because they remind us of our childhood. However, the initial attraction and sense of enchantment is soon replaced with wonder and even gloom. Looking closer, the familiar shapes and colors transform into characters that we meet every day. In later works these personages are found in circumstances
and in the midst of events that are recognizable to us; in fact aren't we looking into a mirror? Is this not an amazing examination of our lives? In Iran, life is often thrust upon us at high speed. From the innocence of childhood we move into adolescence and almost immediately into premature adulthood.
It's therefore not a surprise to find 26 year old artists who are in command of their concepts, forms and stories.
To see the works of this young sculptor please go to:
http://www.360cities.net/search/@tags-aaran-gallery
We shall resume our exhibitions with second solo exhibition of Hadi Alijani, a gifted and committed painter, titled "Persian Gardens" on 19th April.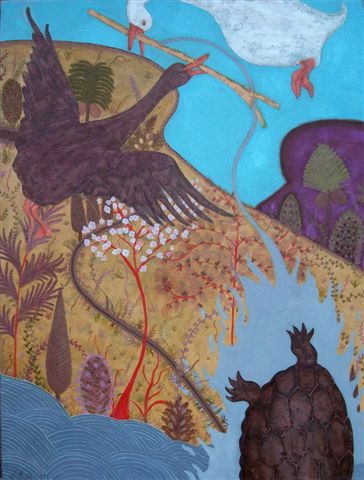 Hadi Alijani, 2012, "Manafeolheivan", Mixed media on canvas, 120×160 cm
Alijani distorts the nature of what is observed. The rich literature of Iran, our fine arts with its hundreds of years of history, as well as the ever present Iranian satire, are all instruments that Alijani uses in his path to uniqueness. The successful transfer of an older visual tradition in to bold canvases are indicative of the tactful intelligence of a young artist that does not blindly follow western artistic styles. His second exhibition is based on his detailed study of "Noskheh Behbahan", a magnificent illustrated book which is now kept at Topkapi Museum in Istanbul.