Barbad Golshiri's solo exhibition in New York and The University of South Florida Contemporary Art Museum, Tampa
Aug. 31, 2013
Barbad Golshiri's Curriculum Mortis
Thomas Erben Gallery in collaboration with Aaran Gallery
September 7 – October 26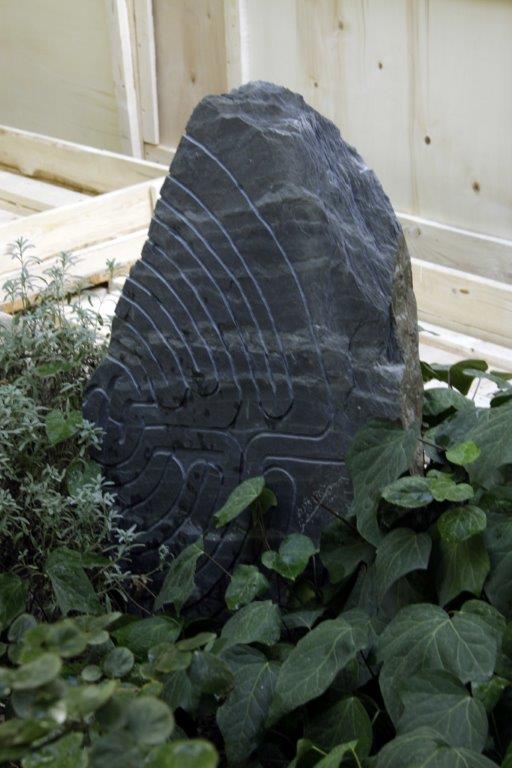 Tombstone for Borges' Assassinated Translator (Ahmad Mir-Alaei)
2012, Engraving on stone, ~ 60 x ~ 81 x ~ 10 cm
Thomas Erben in collaboration with Aaran Gallery, is excited to present Curriculum Mortis, a sculptural installation of a cemetery, by Iranian multimedia artist Barbad Golshiri, his second solo exhibition with the gallery after Nothing Is Left to Tell in 2010. As one of the most prominent figures on the Iranian contemporary scene, over the past ten years Golshiri has produced esthetically and conceptually provocative art, in an impressive balancing act between political urgency and repressive conditions.
Considering the urgent presence of the body, with all its most primal and visceral functions, death has played an important if understated part throughout Golshiri's art. In Curriculum Mortis, it becomes the main theme through which all other aspects are filtered, as physical bodies are replaced with tombstones, turning the gallery into a graveyard. How do we deal with the loss of those close to us, when they are killed under unclear circumstances, in a society where no authority can be trusted? Golshiri approaches each death individually, creating grave markers so closely attuned as to become physical manifestations of the people they commemorate. Tombstone for Borges' Assassinated Translator, for example, incorporates engravings referring to the stories translated by Ahmad Mir-Alaei, a well-known translator who disappeared and was later found dead, allegedly from cardiac arrest. By creating these tombstones, Golshiri gives voice to those whose words have forcibly been taken from us, and gives them a renewed physical presence in the world, refusing to forget.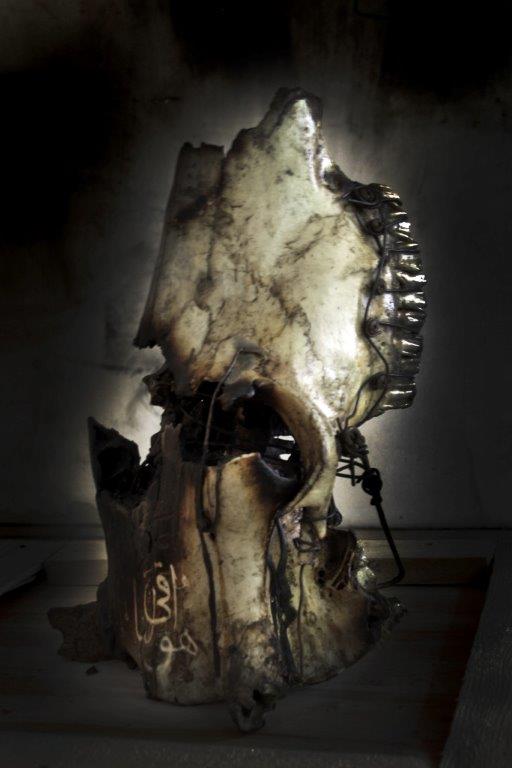 Perpetual Is He -2012 Engraving on cow skull, iron, industrial wax .36 x 23 x 18 cm
Not all graves commemorate victims of oppression; as is true for Golshiri's production as a whole, this series of tombs reverberate with subtext, and the artist's own personal history is as deeply entwined in the work as the histories of the dead. There is the grave of Samuel Beckett, whom Golshiri has translated into Persian; a stone with the epitaph "[There is] no God"; a Tombstone of Jan van Eyck; and finally Golshiri's own tombstone. Walking through this makeshift graveyard, we are moving through a mindscape of the artist; each grave presents a portal into worlds beyond the present one, where transformation is possible and all can – finally – be different.
Location
Thomas Erben Gallery, 526 West 26th Street, floor 4, New York, NY 10001

USF Contemporary Art Museum
Presents:
Sub Rosa: The Language of Resistance
Artists: Ai Weiwei (China), José Toirac and Meira Marrero (Cuba), Barbad Golshiri (Iran), Ramón Esono Ebalé (Equatorial Guinea), Khaled Jarrar (Palestine), and Zanele Muholi (South Africa)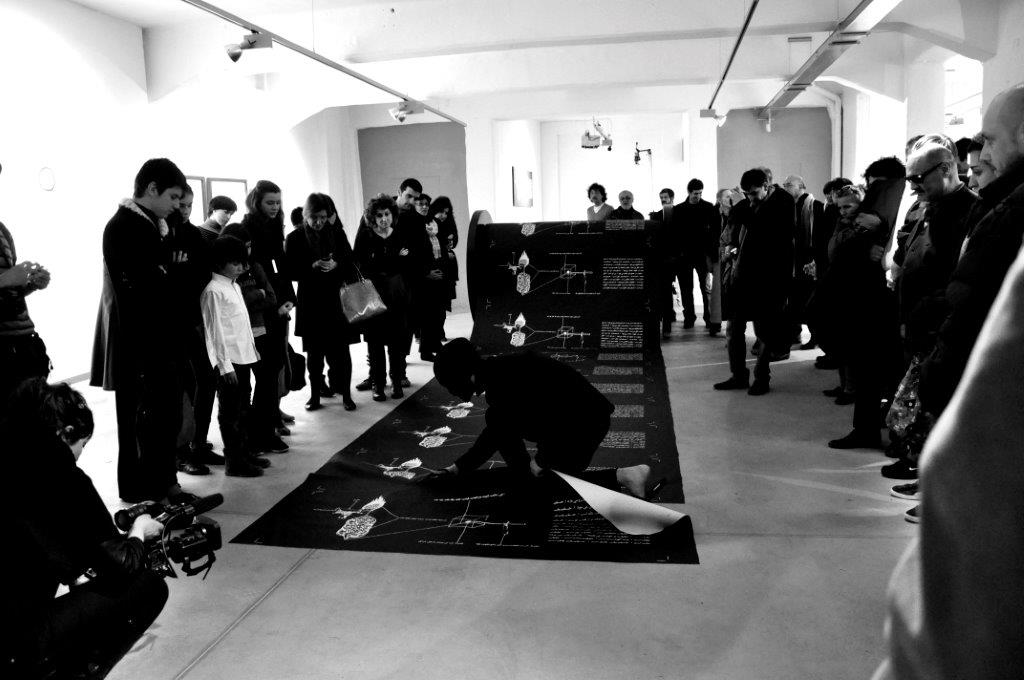 The Distribution of the Sacred System
2010
Installation and aktion
Silk screen print on canvas, 180 x 69 cm, unlimited editions
Iron pulley: ∅ 150 cm, length: approx. 240 cm
SubRosa: The Language of Resistance will examine the art and language of artists in response to social, political, and environmental repression. Although the political agency of art is regularly debated, there is a growing group of artists today who make work with political agency and relevancy in mind. Covering continents and cultures, these artists share a desire to question dominant political systems and the prevalent status quo, sometimes covertly and dangerously. More broadly, SubRosa, titled for the Latin phrase meaning secrecy, poses several questions about the role of art in political life.
Event Date:
Friday, August 26 – December 7, 2013
Location
Contemporary Art Museum USF
4202 E. Fowler Avenue, CAM 101
Tampa, FL 33620-United States
For more info: http://www.wusf.usf.edu/subrosa_the_language_of_resistance_-_exhibition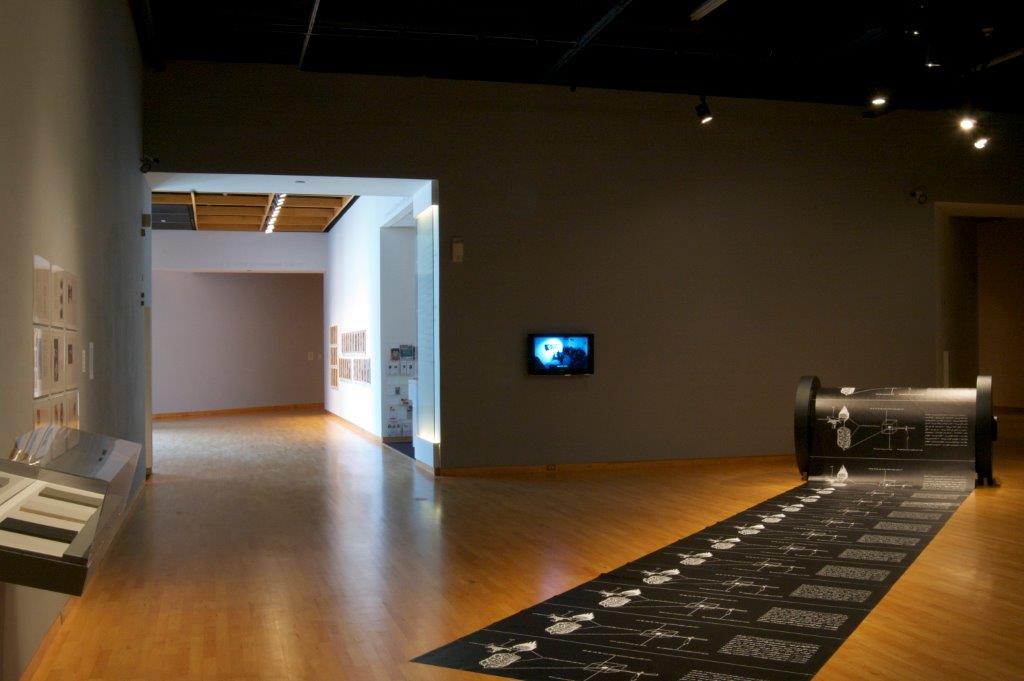 Installation overview at Contemporary Art Museum USF