Barbad Golshiri presents Cura; the Rise and Fall of Aplasticism this friday 16 December for 4 days
Dec. 16, 2011
Cura; the Rise and Fall of Aplasticism
An aplastic play – performed during the 4th Moscow Biennale of contemporary art
Solyanka State Gallery, Moscow
Curated by Katya Krylova
A survey and a visual documentation are presented at Aaran Gallery on Friday 16th December for 4 days.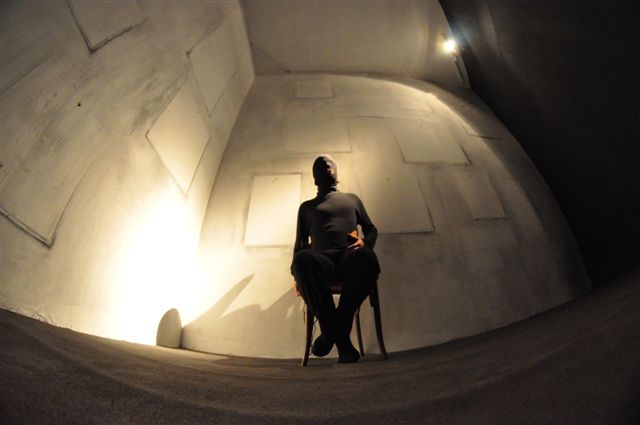 About '0, 10: the Last Futurist Exhibition of Painting', in a letter to a friend, Malevich wrote:
I must admit I didn't have any previous plan for my, as you now say, "installation". It was purely accidental. I only knew that the Black Square must be in the top corner. Everything else was irrelevant. While I was hanging my small Suprematist paintings here and there, it didn't occur to me that the photo of this installation would become so famous and be published in hundreds of books, reviews. And today it is even "quoted" in the paintings by one of my colleagues. I don't remember now who actually took this picture, but it is just a photo, black and white. No colours! I have an impression that this photo is becoming even more important than my Suprematist paintings! This was the major reason I kept on thinking for years to do the same exhibition again.
Unlike prefect and what Barbad Golshiri has called "apathetic loops and repetitions", his diminishing ever-worsening spirals (those that he baptised as "pathetic" and/or "non-mythological", "secular" loops) tend towards non-being with no desire to begin anew; they call upon death not immortality, and to be precise, they die on.
In the aplastic play, Cura; the Rise and Fall of Aplasticism Golshiri repeats Malevich's exhibition. He finds himself imprisoned in art's highest summit of feasibility and in the meantime, its emptiest abyss: The Black Square, 1915.