An exhibition of art by prominent Iranian artists in support of the Omid Foundations – Bahman 13, 1390
Jan. 26, 2012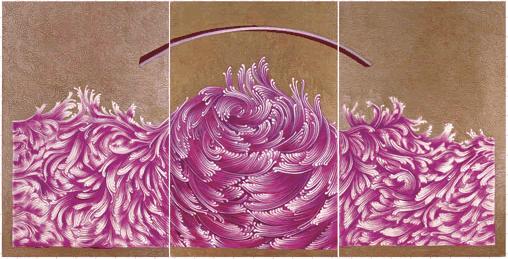 Colour of Love – Artists for Hope
Support the Omid Foundations
Iranian artists have come together to put on an exhibition in support of the Omid Foundations.
You are invited to join them at our private view in Tehran on Bahman 13, 1390.
However if you can't make it then you can still show your support by purchasing the donated works of art online.
Private view: Thursday Bahman 13, 1390 – 5pm-9pm
Public viewing: Friday Bahman 14, Saturday Bahman 15 and Sunday Bahman 16 from 11am-8pm
Address: Assar Art Gallery, 16 Barforoushan St., Iranshahr Avenue, Tehran
The exhibition is a collaboration between the Assar and Aaran Galleries in Tehran and a group of prominent Iranian artists in order to help raise funds for the Omid Foundations. Iranian artists (living both inside and outside Iran) have always been one of the Omid Foundation's strongest supporters. Previously the artists have conducted art workshops at the center which have proven to be a very effective tool in allowing the young women to find new ways of expressing themselves. However, now we are fortunate that these artists are actually donating some of their work for us to sell, so please support them and the Omid Foundations by looking through the catalogue and purchasing your favourite piece of art.
A big thank you to the artists who are participating:
Alireza Adambakan, Iman Afsarian, Afsoon, Shahryar Ahmadi, Samira Alikhanzadeh, Maryam Amini, Amir Moussavi, Pooya Arianpour, Reza Azimian, Shahpari Behzadi, Ali Chitsaz, Mostafa Darebaghi, Bita Fayazi, Siamak Filizadeh, Shadi Ghadirian, Ebtahaj Ghanadzadeh, Mohammad Ghazali, Kourosh Ghazimorad, Hengameh Golestan, Kaveh Golestan, Barbad Golshiri, Arash Hanaee, Ghazal Khatibi, Abbas Kiarostami, Abbas Kowsari, Farsad Labbauf, Behdad Lahooti, Farideh Lashai, Reza Lavasani, Roxana Manouchehri, Amin Maysami, Ahmad Morshedlou, Amir Moussavi, Kaveh Najmabadi, Bijan Rafati, Azadeh Razaghdoust, Babak Roshaninejad, Mehran Saber, Mohsen Sadeghian, Behrang Samadzadegan, Golnar Tabibzadeh, Jinoos Taghizadeh, Mojtaba Tajik, Shideh Tami, Parviz Tanavoli, Newsha Tavakolian, Sadegh Tirafkan, and Morteza Zahedi.
Download the exhibition catalogue, which shows all the works of art and biographical information about the artists.
Download the price list. Prices are for delivery at the exhibition venue in Tehran and exclusive of packing and shipping.
You can also contact us to inquire about the availability of any work of art which you may wish to purchase, at info@omid-e-mehr.org, +98 (21) 88945746.
Please RSVP by email to Roxana Moradi at moradi@omidmehr.net if you wish to attend the private viewing.
Acknowledgements
Our special thanks go to the artists who so generously donated their works. But none of this would have been possible without the expertise and support of the large number of persons who dedicated themselves to this endeavour. We need to single out our appreciation for the contributions of Hooyar Asadian, Ali Bagherzadeh, Orkideh Daroudi, Mahriz Publications, Maryam Majd, Roxana Moradi, Masoud Nader, Nazila Nobashari, Majid Panahijoo, Iman Safaei, Walter Robert Spragg, Omid Tehrani, and Shahla Zahed Kargaran. On behalf of all the girls in our care, a big thank you.