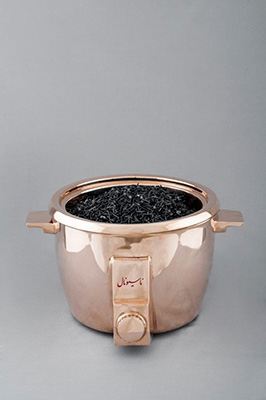 NATIONAL
Solo exhibition of Amir Hossein Radaie
Opening at Aaran Gallery on 4th November 2016
On view until 18th November
By 1960s and 70s Iran underwent major industrial changes. Famous merchants built factories to substitute imports with domestic products, particularly in field of household appliances such as radio, TV, fans, meat grinders, refrigerators, carpet, and tiles. These new products represented the desires and demands of the society and possessing them was an indicator of having achieved a certain social standing. Now half a century later, these products have produced history and memories and posses their own social identity. With changes in consumer patterns and industrial production, the question is when does a certain product become useless?
In this series of works, outdated and useless appliances are recycled and things that were once valued are redefined. The series is an illusory demonstration of changeable identity of objects and a society that is in state of flux.
Amir Hossein Radaie, was born in Hamedan in 1986. He began showing his works at an early age in 2007. His work has been exhibited in a number of group exhibitions in Iran and outside the country. Most notably at Sixth Biennale of Sculpture in 2011, and at Opera Gallery London, as well as MENA Arts foundation in Toronto.