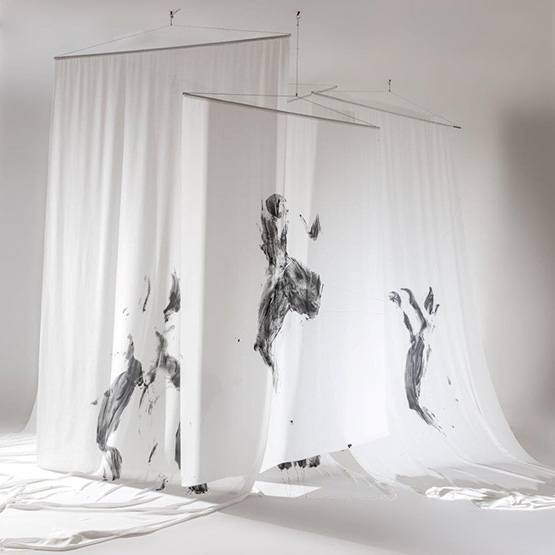 Nastaran Safaei
Presenting series "Beyond and Above", "Monuments For That Which is Forgotten", and "Body Impressions"
Opening at Aaran Projects on 21st April 2017, on view until 12th May 2017.
Aaran Projects
No. 5, Lolagar st., Neauphle Le Chateau.
Tel +98 21 66702233
Working days, except Saturdays 1-7 PM and Fridays 4-8 PM.

Presenting three sets of recent works, Nastaran Safaei reveals her probing mind and restless quest in her artistic endeavor. In the series, Monument To That Which is Forgotten, she echoes words that are important to her; tranquility, silence, instant, and intuition. She builds monuments to these words to remind herself of importance of what is essential and ought not be lost in the hustle and bustle of everyday life. She coats these Totem like sculptures with cement and sacred soil of her land, wishing them to become eternal and to inspire others as well.
In her second series Above And Beyond, ink transfers body impressions on to canvas fabric. Emotions and unconsciousness are registered through the thinnest of mediums; the Skin. The impact of texture of body, at first pallid and then defined, tranquility and movement and the repetition of the cycle, reveals the connection and disconnection of self with the outside world.
In the series Body Impressions, the dots and dotted lines, register and connect the path of evolution of artist. The intimacy and playfulness in these three sets of works are indicators of her perseverance and maturity and are the fruit of her labors in the last one decade.