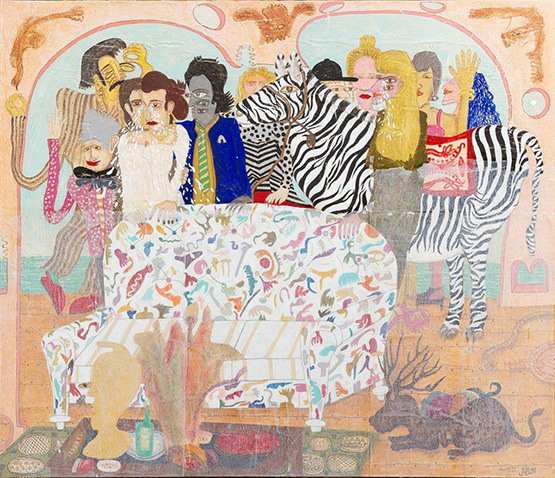 Match Point
Solo exhibition of Hadi Alijani
Opening at Aaran Projects on 1 December 2017
Aaran Projects
No. 5, Lolagar st., Neauphle Le Chateau.
Tel +98 21 66702233
Working days, except Saturdays 1-7 PM and Fridays 4-8 PM.

Match Point is a situation, it is about people who are stranded and have to live with their repressed desires; the crying bride who knowingly is stepping in to her position, Mr. and Mrs. Salimi who are frozen in time, the couple facing future with candles lit and surrounded by realities and boundaries of everyday life. Reactions to a world apparently without a meaning; puppets controlled or influenced by invisible outside forces, a very real theatre of absurdity. Artist is holding a mirror to illustrate the joyless, self-indulgent populace of his world, mostly caught in ordinary moments of their lives, finding no easy solutions for their existence.
Here is an amalgamation of daydreams and recollections; the man who dreams of being a woman, the man that only sees himself in mirrors, the white horse who is the father. In this unique world, nothing is as it should be and everything is as illogical as the artist wants it to be. The world that Hadi Alijani depicts is neither to be believed nor to be explained. It is to exist in perpetuity, forever waiting for the point that will win them the match. A game of chance. Looking for easy solutions or comforting illusions. The backgrounds, glimpsed through either windows or theatrical arches, depict a world of imbalance, where only Mount Damavand seems to be standing firm. Everything else appears to be swimming in a whirlwind of instability, and yet the populace is engaged with their own situations, their own individuality, and existence. Deformation is a trademark of the artist, so are his creatures that are his own. And his unique foliage and wildlife that is as bizarre as the lives of the people who are surrounded by them.
Hadi Alijani's fascination with Persian Painting is boundless. His deliberations are precise and his unwavering focus results in phenomenal imagery and connotation; the bright and pure colors, the flattened objects, the layers of story and metaphors, and most importantly the promise of hope.
Nazila Noebashari