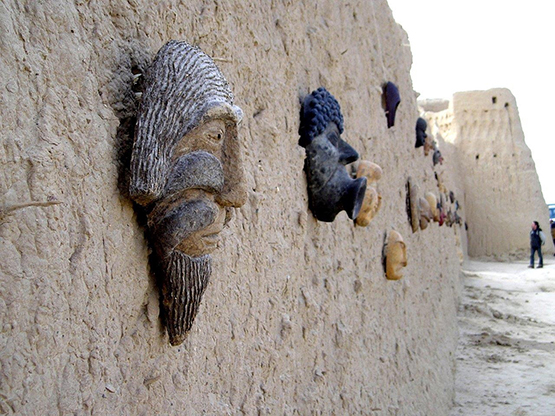 Pulp Narratives
Opening at Aaran Projects on 15th July 2016.
Artists:
Tara Azarm, Leila Imani, Ghazaleh Bahiraie, Fatemeh Bahman Siahmard, Tarlan Tabar, Saman Khosravi, Ali Asghar Khatibzadeh, Afshan Daneshavar, Rene Saheb, Sadegh Sadeghipour, Nastaran Safaei, Kiarash Alimi, Sara Ghanbari, Mina Mohseni, and Masoumeh Mohtadi.
This exhibition aims to show the preoccupations and concerns of a group of artists with diverse practices; Narrations in Pulp that next to each other create a Hall of Mirrors, and consequently a funnel to our times: Nastaran Safaei's compositions resemble bouquets for an event long forgotten. Pages from a famous women's magazine of yester years, with pallid and faded colors, enact the theme of life's transience and fragility. Fatemeh Bahman Siahmard's large scale drawings create tensions between spatial occupations- actual and imagined- and are charged with energy. Viewer struggles to make the image coherent and through intricate lines artist forces the onlooker to visualize a three dimensional space. Ali Asghar Khatibzadeh who is a playwright transfers his visualizations on to pulp of discarded newspapers. Tragic and comic characters from his favorites writers are moved in to the real world to recite the stories that have fascinated audiences for generations; "Arjasb" of Shahnameh, "Medea" by Euripides and the ever present Clown. Leila Imani focuses her attention on superb delineation in Persian Paintings and by extracting figures from well known imagery of manuscript paintings, offers different readings of age old traditions. Kiarash Alimi's large scale flowers stand firmly in their isolated world, patient, unyielding and superbly beautiful. The fabulous simplicity of these paintings are a reminder of splendor of life and the plausible lightness of being. Masoumeh Mohtadi creates books that are talebearer of our times. The book speaks of the gloomy disappearance of the ancient lake of the Assyrians, lake Urumieh. The lake that can be the last habitat of Artemia, a 100 million year species that exists as part of the cycle of nature. Unlike humans that disregard the balance of nature for their own ambitions and survival, Artemia, the ancient being, has resisted change. Ghazaleh Bahiraie is a child of our mega city. She has walked the alleys and streets of her beloved city and offers parodies and her own lived experience. Next to her video, her drawings resemble Silhouette Portrait paintings. Through the black and white drawings artist cuts out the cityscapes; tracing lines around the shadows of the city and telling the stories of its citizens. Saman Khosravi takes us back to his childhood. Having grown up in volatile Kurdistan of Iran, and raised amid war and violence, his simple models of aircrafts that are reminiscent of childhood games at schools, is adapted to tell the tale of horrors of war and a childhood that never was. Rene Saheb has consistently used fables and proverbs of our language to criticize and comment on life around her. By bringing the story of Three Wise Monkeys on to paper, she reminds us of the ancient Zoroastrian inbuilt beliefs in all that is good. Mina Mohseni retells the story of the great flood, refreshing the legend of Noah and his survival. The uncertainty of our times and the consistent struggle of humanity against manmade and natural disasters is a large part of the history of the region. Using sheets of wavy transparent plastic to cover her suspended paintings, she forces the viewer to reconsider their perceptions. Afshan Daneshvar, in her delicate compositions and absorbed in her practice, assembles bits of papers that are reminiscent of strings of something that was once was. Re-building a new page, re-assigning morsels and creating a new presence. The final result are Silent and solid entities that are fragile in essence. Sara Ghanbari tackles the subjects of time and memories and how our perception of life changes as time goes by. She illustrates a suspended space: between present and the past. In her twin paintings, she successfully portrays the flow of time and by re-producing the images, she raises the question of vitality and perception of memories, walking on the edge of memories. Tara Azarm with her set of drawings steps in to realm of concept, erosion and passage of time. Her forms seek to establish new structures out of ambiguous circumstances. Her shapes – with no apparent purpose- change from one thing to another and disappear and reappear in a fusion of the real and the imagined. Tarlan Tabar, pictures what she has seen in her subconscious for a long time. In her works Narcissism and absurdity are in conflicting path with eternity and perpetuity. She alternates between agony and ecstasy and offers her interpretation in lively colors as well as in large scale ink drawings. Sadegh Sadeghipour is a book man. His life is spent in a large book shop every day. The books take the shape of sculptures in his intricately hand cut books. If books are to become obsolete in the 21st century, what better alternate than transforming them to a beautiful sculptural piece and keep them around in one way or another.