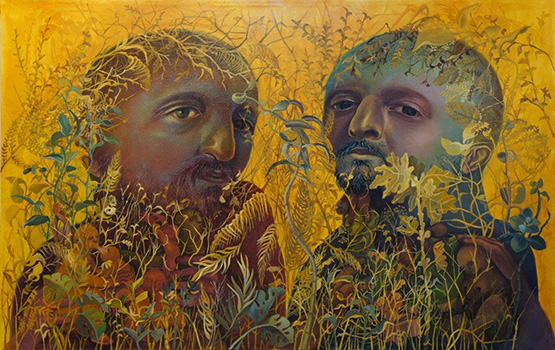 CAP
Nasim Davari
Opening at Aaran Gallery on 3rd November 2017, on view until 20th November 2017.
Layers of color gradually come together to create solid and carefully deformed portraits. Portraits of a people that belong to a certain unnamed land, people who sing or shout their lives, as if they are telling their stories to the viewer. It is difficult to assign a gender to them, and maybe they are without one.
In her paintings, Nasim Davari supersedes the boundaries of imagination and creates her own world. In her world, the people are equal in the sense that they are equally in pain or just as fortunate. They bring children to their world, have jobs and are playful or philosophical. These portraits that follow on the track of earlier works of the artist are a hybrid of humans and unknown creatures. These are not just portraitures of these people, but they demonstrate their expressions and feelings. These images paraphrase emotions such as complications in relationships, bewilderment, anxiety, and serenity.
The works in this exhibition can be divided into groups depending on the material they are painted on, but the spirit is the same. As an example, the paintings on old trays are a reminder of the history of these people and their lived experience. The other important factor in Nasim Davari's practice is that she remains independent and stays away from the prevalent artistic practices. She is not influenced by the external influences and constantly challenges her own essence and capabilities, and that is why she everyday lived experience is part of her practice.
Her work is at the same time rational and equally illogical. Rational because of focused execution of her oil painting and illogical as her practice is not about creating philosophical interpretations of art, instead she looks to break up the pre-conceived subjective templates. She toys with prevailing and ordinary values and by defying them, creates a new logic. By choosing the title of "Cap" for her third solo exhibition, she offers a multitude of layers for the audience to shape their own interpretation of the works and even find their own doppelgänger among the people of this unknown land.
Mina Feshangchi