A Few Credible Stories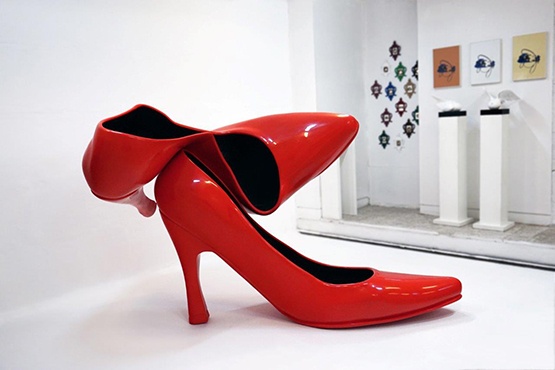 A Few Credible Stories
Group Exhibition
Opening on 20th January 2017 up to 31st January 2017.
Aaran Projects
No. 5, Lolagar st., Neauphle Le Chateau.
Tel +98 21 66702233
Working days, except Saturdays 1-7 PM and Fridays 4-8 PM.

Artists: Parastou Ahadi, Doras Asadi, Shabnam Lohrasbi, Roghayeh Najdi, Pooneh Oshidari, Mahdieh Pazoki, Leyli Rashidi Raouf, Nastaran Safaei, and Rene Saheb.
The story is that Shahryar, the king finds out that his wife is not virtuous and decides to marry a virgin every night, and to behead them by morning, allowing no time for unfaithfulness. He carries on in this manner until his choice falls on Sheherazade, the daughter of the vizier. The king did not know that Sheherazade had studied philosophy and sciences and arts and that she was pleasant, polite and clever. Her stories and ingenuity and wisdom, changed his attitude and outcome of the night, and she continues to inspire and influence the world after centuries from inception of the story.
This exhibition assembles works of nine female story tellers, stories that can only be narrated by women. The aim is to demonstrate their tenderness and initiative and to celebrate their perseverance and humility. Each have found their own unique visual language; a language of compassion and sensitive approach to mostly social issues with emphasize on their own standing in life and the peripheral.
In 1936, twelve women entered Tehran University and as of 2006 women account for more than half of university entries in Iran, however everyday life is mostly controlled by male decision makers, who habitually are not ready to relinquish control or to share power. The dynamic presence of women in every arena in Iranian society today is the result of years of perseverance and determination of generations past and wise men who chose to support them.
It is said that Ishtar the Goddess of Love and power, approaches the gates of the underworld and demands that the gatekeeper open them:
If thou openest not the gate to let me enter
I will break the door, I will wrench the lock
I will smash the door-posts, I will force the doors…