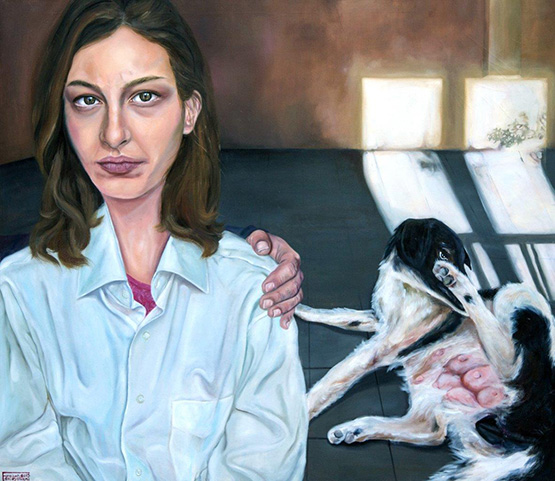 Hamid Asadzadeh, Forouzan Soleimani, Majid Kamrani, Akbar Rad, Mostafa Masoumi and Shaqayeq Shabani.
A project by Borjass Art Group in collaboration with Isoo Gallery of Amol
Opening at Aaran Gallery on 2nd September 2016 until 16th September.
This exhibition is about six artists who have chosen to live in the city of Amol, away from the hustle and bustle of major cities of Iran, particularly its capital. They have chosen to search for light and have found solace in different spectrums of light; under these rays of light the identity of objects and occurrences appears more real to them.
Ahmad Asadzadeh looses human condition in a bustling labyrinth to find it again. The human that is lost among a thousand selves and constantly searches for its true identity. If there is path then it is a disordered one, and only by raising to the task, freedom is attainable. Forouzan Soleimani finds the eyes to be reflection of the forgotten side of humans. Once a woman chooses silence, it is a reflection of what she has lost, that which she should have not lost. The weight of this forgetfulness is heavy on their shoulders. Majid Kamrani explores today in the passage of yesterday, and this frequent journeys from memory to the present carry the souvenirs that appear like misfit patches and cry out for the lost purity. Akbar Rad craves a path through childhood. A mother that is knotted with her child and melts her fabulous femininity with mountains and volcano craters, to generate and portray the joy of living; the constant presence in the glow of motherhood. Mostafa Masoumi portrays the aftermath of the horrible explosion that results in never ending murderous floods, and the humans that become entangled in this deadly zone and strive for freedom. Shaqayeq Shabani is spiteful to the degree that in her work the decadence of soul and body are integrated and the result is an empty fist and the sore of the wound is the most prominent phenomena, an incident that will never be forgotten.