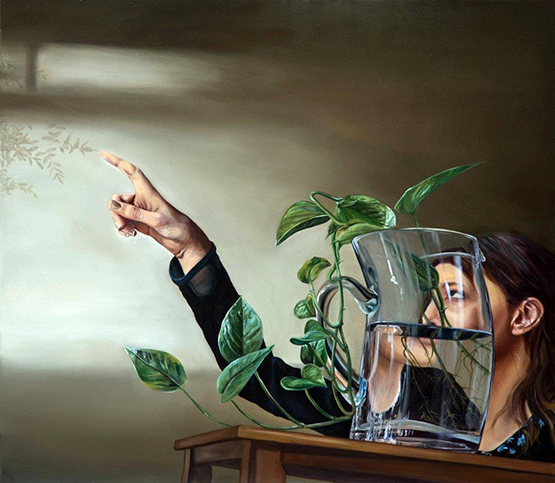 BORJASS
A project by BORJASS art Group in collaboration with Isoo Gallery of Amol
Hamid Asadzadeh, Farzaneh Gholizadeh, Ali Fazeli, Forouzan Soleimani, Akbar Rad, Mostafa Masoumi, and Shaqayeq Shabani.
Opening at Aaran Projects on 28th July 2017, on view until 25th August.
Aaran Projects
No. 5, Lolagar st., Neauphle Le Chateau.
Tel +98 21 66702233
Working days, except Saturdays 1-7 PM and Fridays 4-8 PM.

Six artists reveal their preoccupations, varying from concerns for Inequality and Gender discrimination to importance of love, to anxieties over after life. Hosting artists of Borjass Group, of ISOO Gallery based in Amol, for a second year, the exhibition includes works of seven artists with different mediums.
In his new series "Squint", Hamid Asadzadeh, explores dual perceptions of same concept. In social spectrum that recognizes the symbol more than the axiom and surfaces more than meaning. This dual perception leads to clashes between two visions of same concept. In women of Forouzan Soleimani a defining moment in their lives is pictured. Instants that determines their fate. A moment after which return will not be possible. The paintings refer to the struggle between the inner self and the outside world and resembling Tide of oceans and the underlying force of gravity of earth. Akbar Rad finds humans engulfed in darkness. Surrendered and forgotten and in depths of loneliness. However the play of color and light in these paintings signal presence of hope. Mostafa Masoumi inserts his own mind in to famous paintings of History of art. A conjecture and remaking that connects the young artist to the giants of art. Shaqayeq Shabani registers the ever present emotions and torments. Agonies that she tries to console by covering female body with white paint. A solace for tired souls. Ali Fazeli uses Iranian Birth certificates to show the violations on personal identity. Even a personal document is constantly changing. A document that shows force of geography and dos and don'ts that shape the human identity. Farzaneh Gholizadeh emphasize is on decay of all creatures and concepts. By accepting this inevitable cycle and stressing the role of humans in their own demise as well as that of the nature, a new birth is promised.