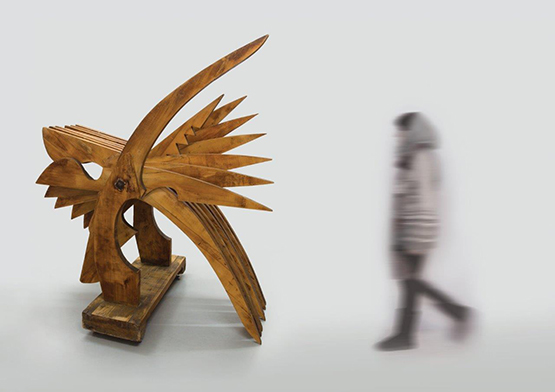 Primeval, Art of Wood
Group exhibition of works made with/on wood
Curated by Akram Ahmadi Tavana, Commissioned by Aaran Gallery
Opening at Aaran Projects on 1st September, on view until 25th September 2017.
In memoriam and honoring artists:
Arabali Sherveh (1939-2011), Mohammad Ali Madadi (1942-1998), and Mehdi Sahabi (1944-2009).
Exhibiting works by:
Mohsen Vaziri Moghaddam, Behrouz Amiri Rad, Mansour Tabibzadeh, Majid Kamrani, Farhad Ahrarnia, Houman Salimi, Shaqayeq Arabi, Behdad Lahooti, Mehdi Rangchi, Shahryar Gharaei, Yashar Azar Emdadian, and Mohammad Marvasti.
Aaran Projects
No. 5, Lolagar st., Neauphle Le Chateau.
Tel +98 21 66702233
Working days, except Saturdays 1-7 PM and Fridays 4-8 PM.

Essential to life on earth, trees hold a special place in the collective consciousness of humans: rooted in earth, reaching skyward, nourished by elements, they provide a metaphor for what it means to be human. Each tree has a character, and it is in the strength and density of its grains that a dialogue between the artist and the medium takes shapes.
Wood has an irrevocable history, stories of lush forests, seasons, flora and fauna, and Time that is written in to its rings. The appeal of the primal nature and human's yearning for it, is perhaps the reason that viewers appreciate art works made of wood in a different way; the perception of the story behind the wood, the Medium itself, and the inherent connection between earth and water and purity of nature.
This exhibition explores forms and concepts of artists, across three generations, who have often chosen wood as their preferred medium. While some works emphasize woods' natural characteristics, others work against the grain. At the same time the sculptural play and wide ranging distinctive artistic sensibilities and rich symbolism of trees, are evidence of the emotional connection between the art works and the artists.
The aim is also to celebrate how contemporary Iranian artists integrate storytelling and personal narrative in to their work. The rich history of Iran is allegorically referenced to in many of the works at the same time consciously or otherwise many motives of Persian arts are present. Through the use of various tools each artist pushes the boundaries of the medium while taking in to consideration the unique characteristics of wood such as grain, tone, color and texture; a conversation that is encircled with the energy of earth and sun, one that has been engraved in the texture of wood, a purity that is appealing and timeless and primal.
Nazila Noebashari