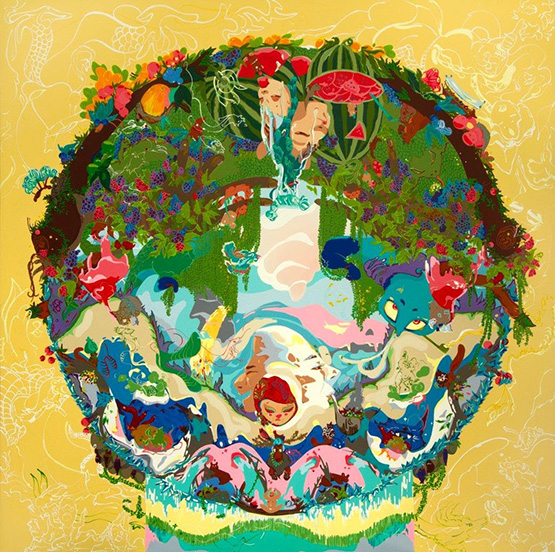 Four Seasons, Studies for Carpet Weavers
Solo exhibition of Hadis Fakhr
Opening at Aaran Gallery on 12th May 2017 on view until 21st May 2017.
In carpets of Hadis Fakhr, ardent flames, next to gaily blooms and splashing fountains and rippling cascading pools are cool retreats for sore-wearied limbs and tired hearts. In this organized chaos there is the promise of fertility and abundance, of invisible and elusive realities.
In her suggestions for Contemporary carpets, the young artist gathers her fanciful creatures and crafts a unique playful and joyous world. Hers is a fantasia of enchanting rhythms; emerging, retreating and reversing. In her wild compositions her visual dynamism takes shape and the fairy land becomes real. Within these dream like foliages, and sparking tones, magical creatures reside in an everlasting spring.
In super charged panels an exceptional imagery is formed, where her creatures resembling Japanese Manga characters, dwell on Persian carpets and mischievously act in sequences, moving from one panel to the next one. In a back drop of utopian themes, Hadis Fakhr successfully blends her imagination with the classical lines and compositions of legendary Garden Carpets of Iran.
In each panel artist weaves her own concept in to the fabric of the carpet: in "Heaven and Hell", the two worlds change place; hell becomes this enjoyable place and heaven is a supremely boring place. Our young Bard tells the story of changing of seasons, with dragon wrestling matches and peacock dancing competitions and the ever present naughty and wildly free Fox. At the end all conflicts are reconciled, all creatures in confederation blendlike a chorus singing, rejoicing, floating; yet anchored in eternity and in the safety of the Garden.
Hadis Fakhr is the supreme story teller. She lives within her stories, a wondrous world created to safely deliver her and the viewers to a place where beauty and joy are the redeeming answer to chaos, frustration and insecurity that has governed our land for generations. It is this level of competence and commitment that drives the young generation to persist on their own capabilities and is the source and merit of Iranian Arts for generations to come.